We're Open
We're absolutely delighted to share the biggest news in Calaveras Humane Society history: Our shelter and adoption center in Angels Camp is NOW OPEN!
We'll have an official grand opening celebration sometime this summer, but yes indeed, we are officially open for business!
Feel free to pay us a visit and have a look around. We'd be delighted to show you our state-of-the-art cat condos and dog suites, as well as the Cat Lounge, a cage-free room with connecting "catio" for adoptable adult cats. And yes, we already have some absolutely irresistible animals available for adoption.
NEW HOURS OF OPERATION
Wednesday through Sunday, 11 a.m. to 5 p.m.
If you plan to visit, why not bring a little somethin'-somethin' for the animals?
New (or gently used) bath size towels
New and unused pet toys
Unopened bags and cans of dog or cat food (cat food in particular!) for our Pet Food Bank,
Soft pet treats.
Donate an item in person, and receive a Calaveras Humane Society fridge magnet or car sticker from us as a thank you (while supplies last)!
Please note: We are a managed admission shelter, which means an appointment is required to surrender your pet. By law, we are unable to accept strays.
May 24, 2019
Paving Our Driveway
Thanks for your patience, everyone! Our little stretch of Highway 49 was reduced to one lane with a flagger for a while on Thursday while the entrance to our parking area was paved.
We are so close to the finish line. New shelter opening soon!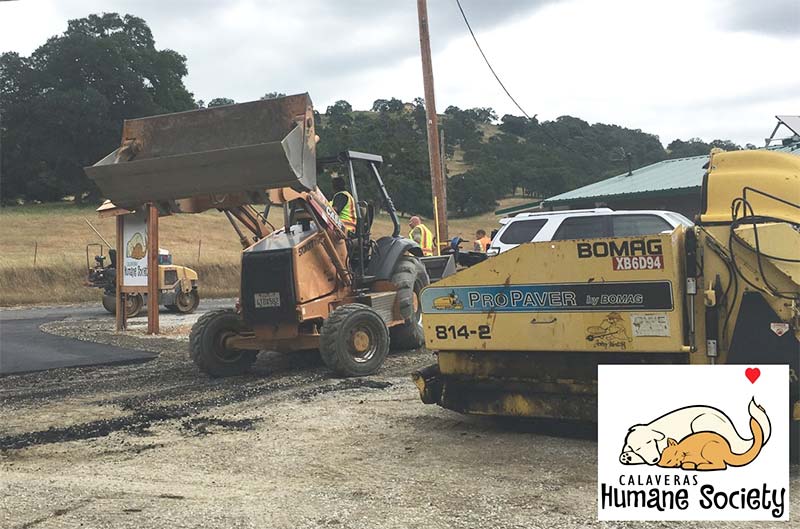 May 3, 2019
Bye-bye, Tiny Office
We said goodbye this week to our temporary tiny office (a.k.a. "The Dumpster"). We occupied it for the last seven months while construction was being finished on our Angels Camp shelter and adoption center.
We're officially moved into our new building in Angels Camp and are using it as an office now. No animals yet, but hopefully by the end of this month. Boy oh boy, does it feel good to spread out again! 👍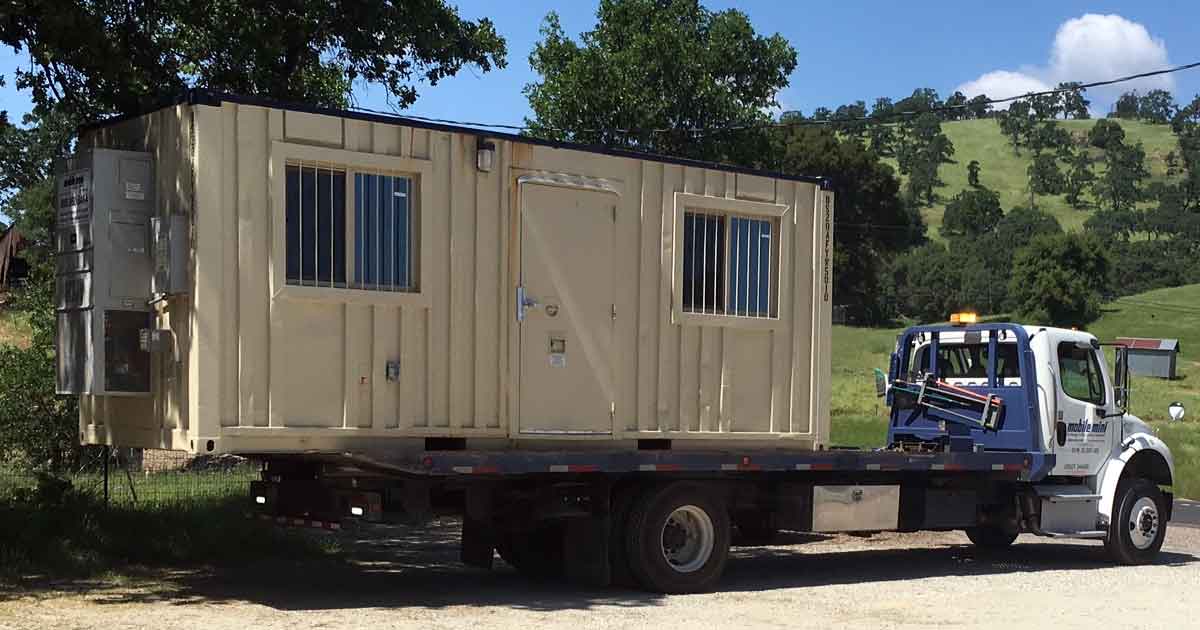 April 28, 2019
Here Comes The Catio!
Catio installation at our new shelter and adoption center has begun!
This enclosed porch is attached to the Cat Lounge. It's a large, sunny, cage-free room for adoptable cats to hang out together while they wait to meet their future families. During the day, two cat doors will allow them indoor/outdoor access to the safe, enclosed space, where they can enjoy sunshine and fresh air.
Our catio installation was created at a special rate for us by Cornerstone Steel Fabrication in Angels Camp. Feel free to give them a shout if you're interested in a custom catio of your own for your feline friends!
Our shelter is scheduled to open in late May when the last county permit has been obtained.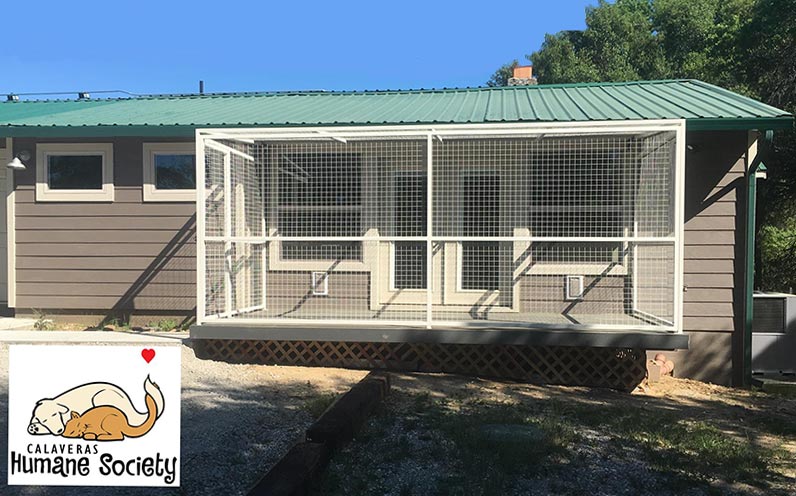 April 21, 2019
Our New Lobby
The new shelter would not be possible without a generous bequest from founder Barbara Brooks.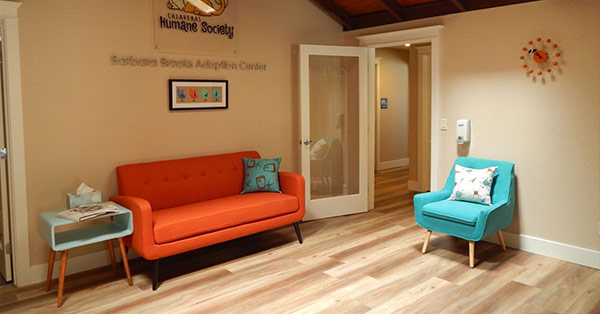 April 21, 2019
Beep! Beep!
Woot woot! Things are getting real!
To everyone who's honked at our brand-new sign as you drive past, we ♥️ you too!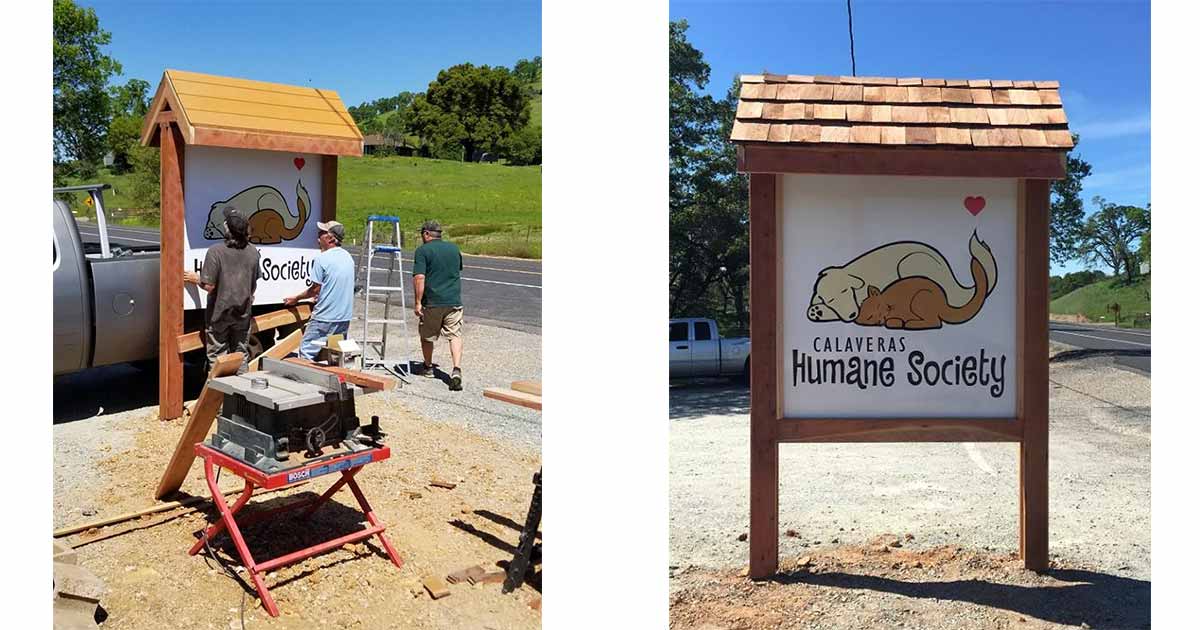 March 18, 2019
We Know You're Waiting
We know you've been waiting for what feels like forever for our new shelter to be finished and ready. Your patience will be rewarded soon, we promise. We just have a few more t's to cross and i's to dot permit-wise and then it will be GO TIME. Our goal is to be ready and able to accept animals in need and help them find new homes sometime in May.
We hope you'll find it was worth the wait. We've worked very hard to create an adoption center that will be warm and welcoming to both people and pets, and that will make our community proud.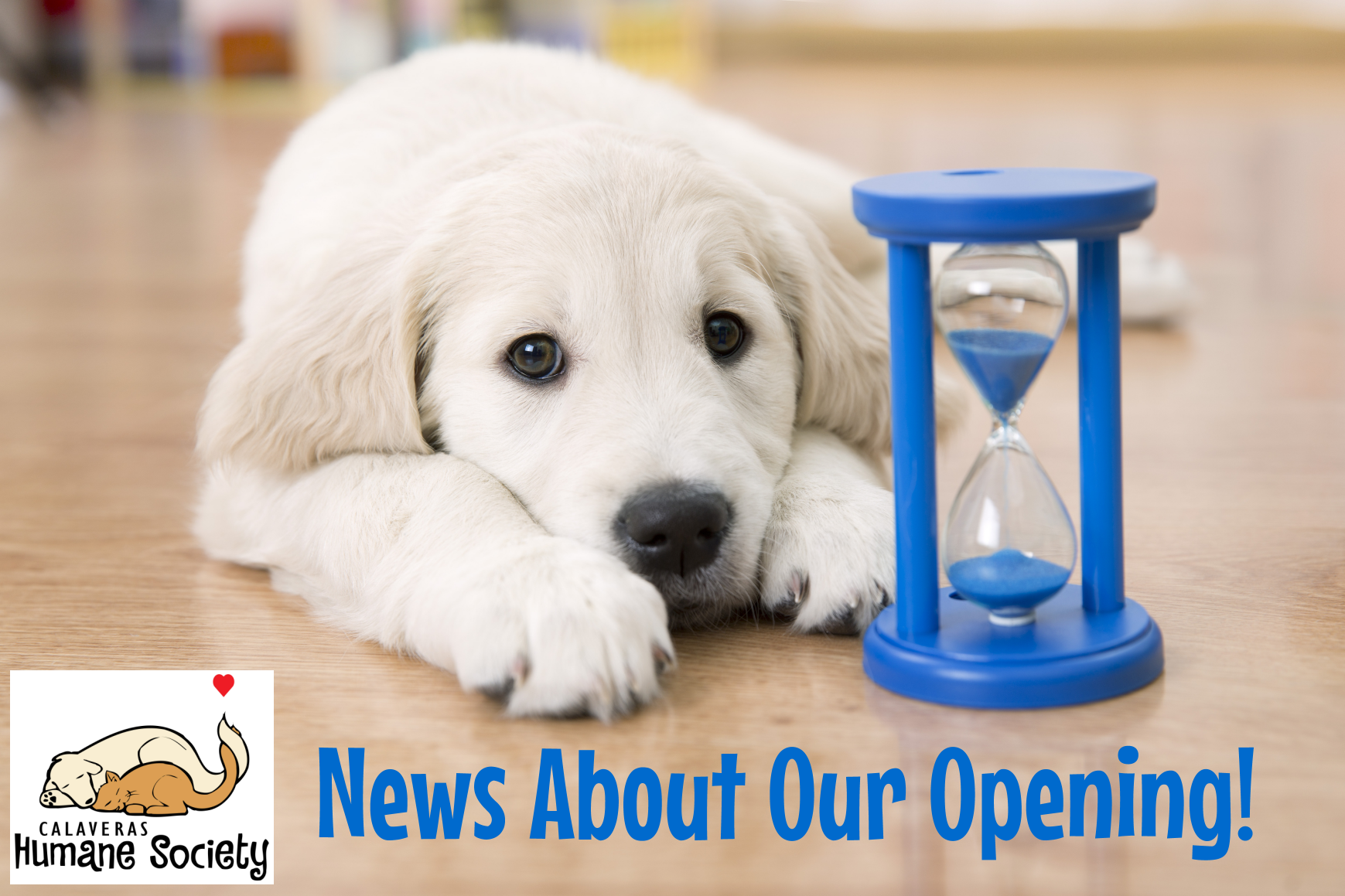 February 28, 2019
They Can Strut On The Catwalk
The communal cat room (a.k.a. The Cat Lounge, a large, cage-free area for adoptable cats) in our new shelter has been outfitted with some pretty spiffy details that we think our feline guests will appreciate.
Pictured here are the cutouts and steps in one of the walls, and you can glimpse the end of the "catwalk" above. The catwalk is an eight-foot span near the ceiling that the cats can strut along, then hop down to a six-foot carpeted cat tree.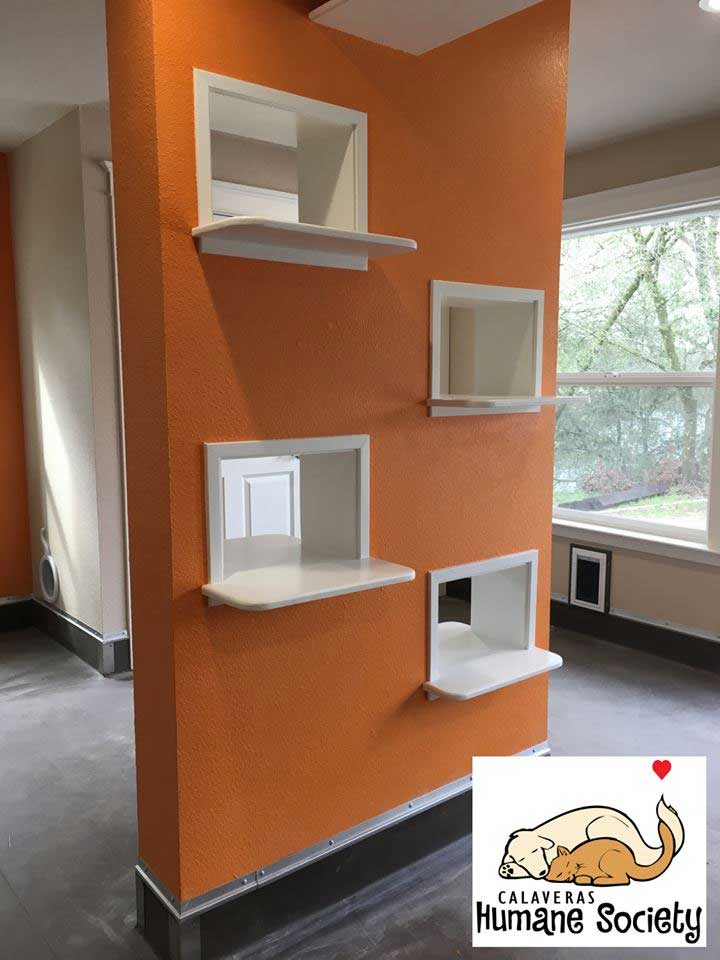 February 25, 2019
History of Our New Building
The building that houses our new Angels Camp shelter has quite a history! We know it began life as a farmhouse sometime in the 1920's or thereabouts, followed by a stint as the popular Chicken Shack (a restaurant and sometime juke joint). In more recent years, it was also the home of Angels Camp Veterinary Hospital, and its most recent incarnation was as a combination chiropractic office and vodka distillery. Whew!
We've left as many of the historical aspects of the building intact as possible, including this fireplace, part of the original farmhouse. It's now the focal point of our new conference room, and we think it's pretty darn cool.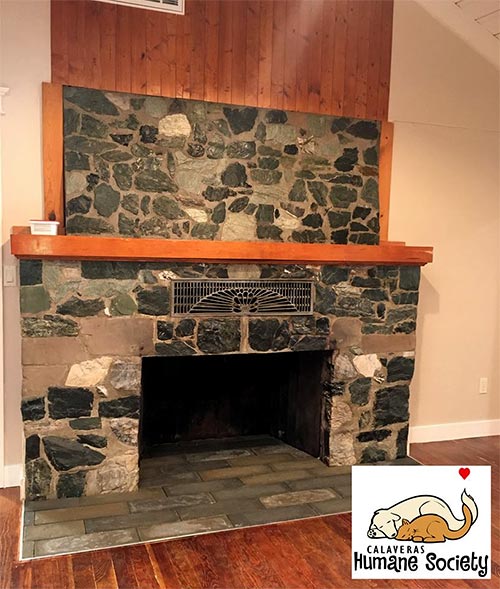 February 11, 2019
Puppy Room Common Area
The "puppy room" in our new shelter will serve not just for pups, which we don't expect to have terribly often. It will also serve as an indoor playroom for one or two dogs on warm or rainy days, as an additional get-acquainted room for potential adopters, and as a "deluxe suite" for dogs who are with us for longer periods of time.
This sunny, cheerful space exemplifies the overall theme and feel we've put in place throughout our shelter: warm, welcoming, inviting, and positive. Our Angels Camp adoption center will be opening soon! ♥️🐾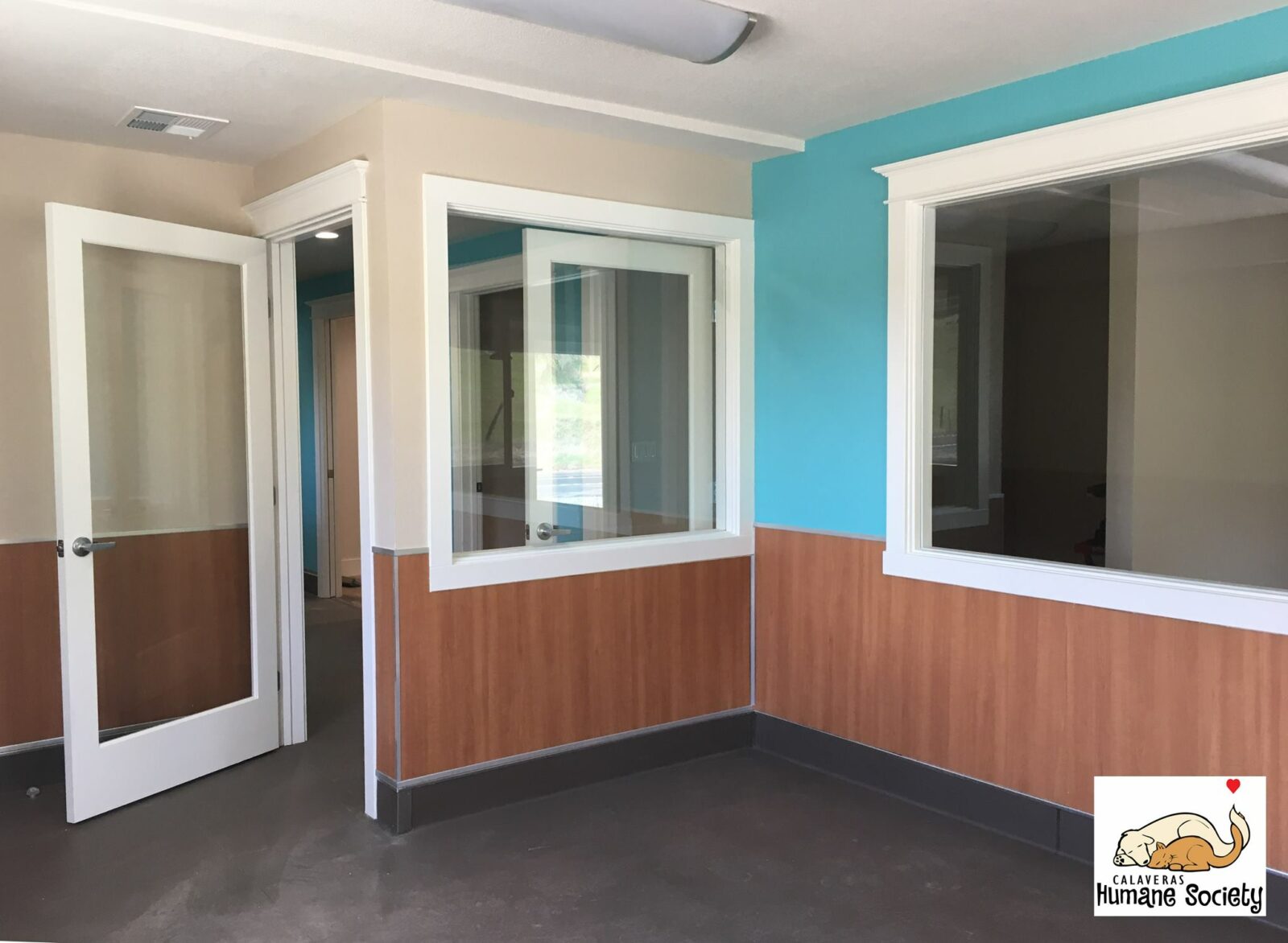 February 8, 2019
We're Conscious Of Our Environment
Our new shelter (opening soon!) was designed with not only the comfort of our animals but the health of our planet in mind.
Our remodeled building is equipped with solar, earning enough credit with the utility company to be completely bill-free.
The innovative flooring we installed in all the animal areas is made from 90% recycled materials.
We've already selected environmentally conscious products for cleaning and disinfecting, ones that are nontoxic and eco-friendly.
Your Calaveras Humane Society cares about pets and people — AND the planet.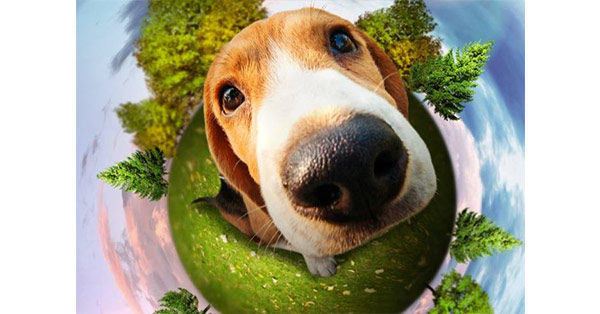 February 1, 2019
Our New Small Animal Room
Bring on the bunnies! Another sneak preview to share! Behold the small animal room of our almost-completed shelter in Angels Camp.
This is where we'll house all the "others" — basically, anything that's not a dog or a cat (such as bunnies, guinea pigs, rats, and even domestic birds) — while they await adoption.
By necessity, many shelters are forced to put these miscellaneous critters in back areas where they're rarely seen. Ours are front and center, located directly off the lobby and immediately visible to all guests through a glass door. Ample storage below for their supplies, too, such as hay, pellets, igloos, and water bottles.
We Bought A Building!
We'll begin renovation on our new property (located in Angels Camp) in January and plan to open in late 2019. We have a lot of work ahead of us, but are just tickled pink at providing our community with its first nonprofit, no-kill animal shelter./
More details to come but we wanted to give everyone an extra-special holiday gift by showing you that YES, it's really happening. We couldn't be more excited, and hope that you are too.