What A Year 2018 Has Been!
December 19, 2018
Records Set – Some Highlights
More spay/neuter assistance vouchers issued than in any previous year
More feral cats spayed/neutered than ever before, at no cost to the community!
More low-income senior citizens helped with veterinary expenses
Pet oxygen mask kits provided to every fire department in Calaveras County, a lifesaving tool that they didn't previously have.
In This Season Of Giving
Won't you consider a contribution to your Calaveras Humane Society to help us continue our work in 2019 and beyond? We have so many exciting new programs (Pet Food Bank! Free adoptions for veterans!) and more that we can't wait to share with you once our new shelter is open.
The support of our community is critical to enable us to keep doing what we do. We're looking ahead to a new year, a new shelter, and new opportunities to serve the people and pets of Calaveras. Please help us in our mission to make our area one of the best places in California to be a dog or a cat — or to be a person seeking the companionship of one!
We Thank You For Your Ongoing Love And Support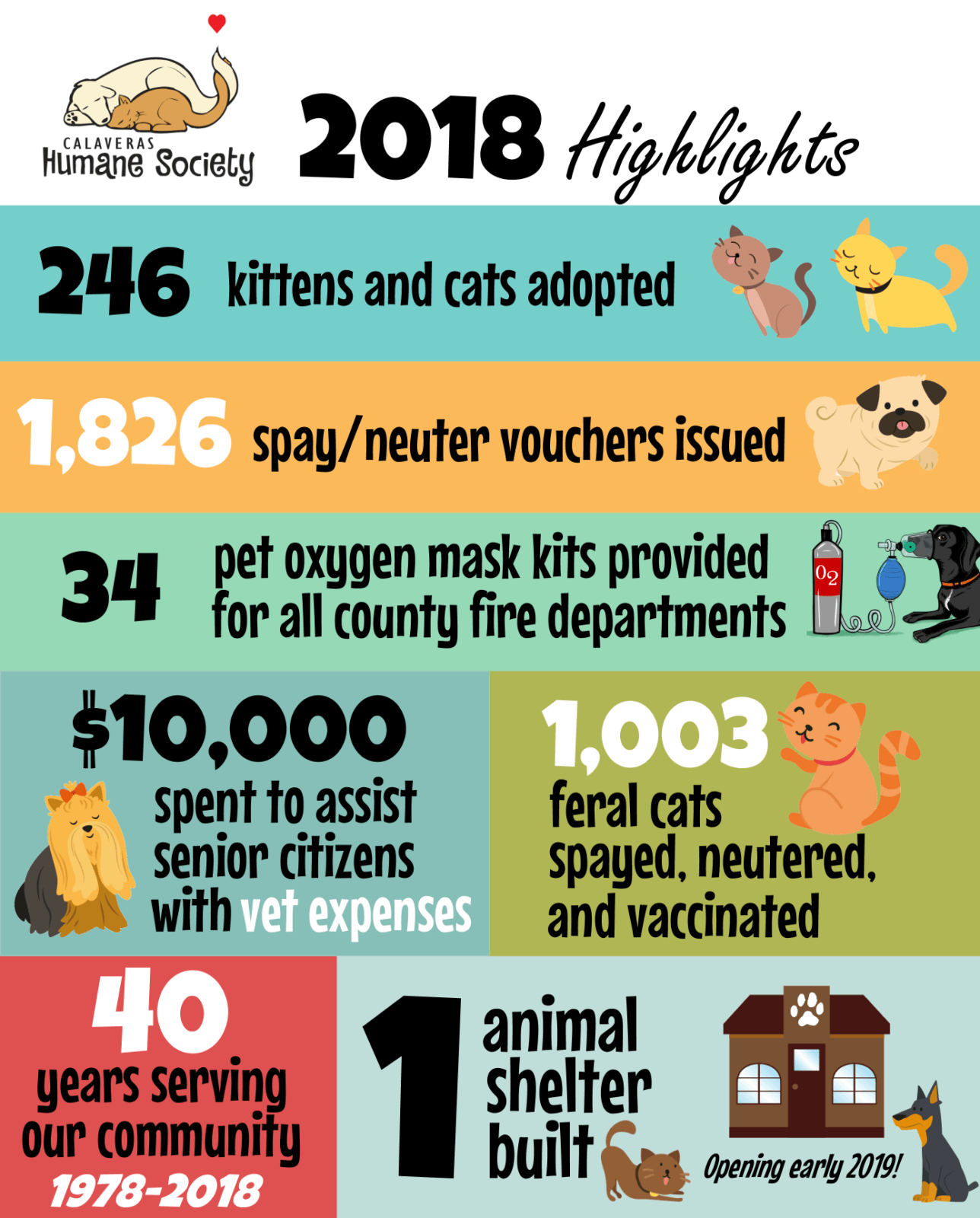 Our Fortieth Anniversary!
February 22, 2018
Browse around our website to see the various services we provide to keep the people and pets of our area happy and healthy, including our Feral Feline Program, spay/neuter vouchers to assist with the cost of altering the pets of county residents, and our veterinary assistance program for low-income senior citizens.
In late 2018, we will open our region's first nonprofit, managed admission, no-kill animal shelter in Angels Camp. Read about our new building (our remodel is already underway!), as well as a Q & A on some of the finer details of the project.
We can't think of a better way to celebrate our first 40 years, and to launch the next 40, than by providing a full-service animal shelter for the people and pets of our community to enjoy.
Happy Anniversary to us, and to all of our friends and supporters!